Plant a Row for the Hungry
Calling all GARDENERS:
Are your eyes bigger than your stomach when it comes to planting a vegetable garden? Do your friends and family beg you to grow less squash? Convert some of that garden space to feed the hungry with Logan's and Inter-Faith Food Shuttle through Plant a Row for the Hungry.
What is Plant A Row for the Hungry?
Plant A Row for the Hungry (PAR) is a national program sponsored by the Garden Writers Association that encourages garden communities and individuals to donate fresh vegetables, fruit, and herbs to people in need in our community. Inter-Faith Food Shuttle distributes your produce directly to local families in need. 2016 marks the eighth year that Logan's has participated in this program by providing starter kits to get gardeners growing as well as providing a drop off location for fresh produce donations in Raleigh. Last year, 30,000 pounds of fresh produce were donated at Logan's! Just harvest and bring your produce to Logan's during our normal business hours and we'll do the rest.
Donation Totals for Previous Years
2009 - 555 pounds
2010 - 6,454 pounds
2011 - 16,664 pounds
2012 - 20,106 pounds
2013 - 26,460 pounds
2014 - 35,186 pounds
2015 - 30,000 pounds
2016 - 40,000 pounds
2017 - GOAL is 50,000 pounds!
Why Donate?
Did you know that low-income families have the highest rates of obesity/chronic disease and hunger in our community - largely due to limited access to healthy, fresh foods? Produce from your farm or garden helps provide access to fresh, nutritious food. Gardening provides physical activity, stress relief, family bonding, community building, learning opportunities, fresh food for healthy eating, time outdoors, and FUN! Start your own garden in your backyard or join with others to create a community garden. Garden gloves ready? Sign up to PAR-ticipate at Logan's customer service desk.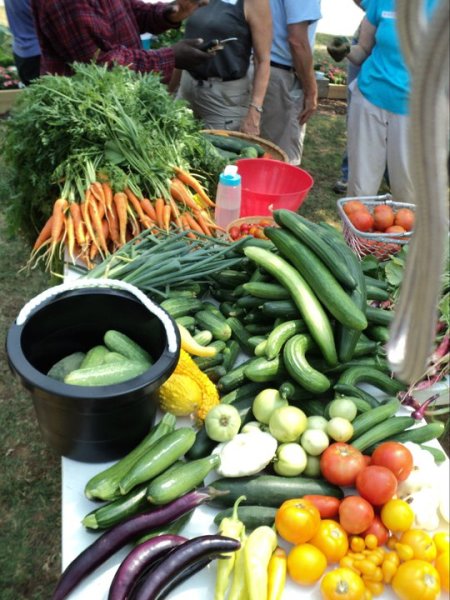 Guidelines for handling fresh fruits and vegetables:
Pick early in the day for best quality.
Keep produce out of the heat and in the shade.
For delicate produce like tomatoes and berries, avoid deep containers; the weight on top damages the produce below.
Deliver to Logan's soon after harvest to retain freshness and quality.
Safety Guidelines:
We cannot accept produce grown with animal manure not composted to USDA Organic standards or sprayed with pesticides within two weeks of harvest.
If you have questions about Plant A Row for the Hungry, please contact: info@logantrd.com.
Hear what Logan's team members have to say!