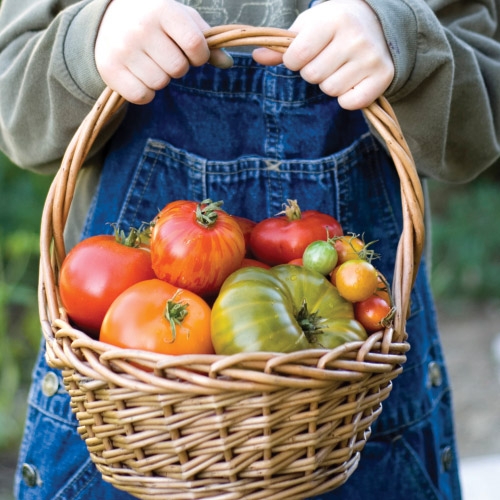 Edibles

Show us what you've done! Use the hashtag #GrowWithLogans to share your success!
Nothing beats the taste of homegrown fruits and vegetables! If you're starting an edible garden, don't worry. Growing edibles is fun, rewarding, and a lot easier than it seems.
All you need to start is a sunny location and quality supplies. Visit Logan's for the best selection of soil conditioner, compost, plants, and fertilizer available. Logan's carries hundreds of different varieties of fruits, vegetables, and herbs for every landscape condition.
Come in and one of our associates will take you step-by-step through the process, helping you to find the right tomatoes, cucumbers, peppers, lettuce, fruits trees and herbs for your space. Discover how easy and affordable it is to bring the farm life to your own backyard!
Not sure we carry what you're looking for? Here's what Logan's keeps in stock each season:
Cool Season Vegetables: February 15 - April 15
Spinach
Arugula
Beets
Beans
Broccoli
Brussel Sprouts
Cabbage
Carrots (Seeds Only)
Collards
Kale
Leeks
Lettuce
Mustard Greens
Snap Peas
Onions
Peas
Radishes
Turnips
Kohirabi
Peas
Asparagus
Parsnip
Cauliflower
Endive
Bok Choy
Swiss Chard
Warm Season Vegetables: April 15 - September 15
Tomatoes
Cucumber
Eggplant
Bell Peppers
Hot Peppers
Okra
Sweet Corn
Sweet Potato
Zucchini
Watermelon
Cantaloupe
Lima Beans (seeds)
Squash
Pumpkin
Herbs
Sage
Parsley
Basil
Thyme
Rosemary
Mint
Chives
Oregano
Dill
Fennel
Cilantro
Green Onions
Chamomile
Lavender
Catnip
Garlic
Stevia
Lemongrass
Lemon Verbena
Berries: Perennial, yield times vary.
Raspberries
Blueberries
Blackberries
Goji Berries
Grapevines
Strawberries
Hardy Kiwi (Tastes the same, looks different.)
Fruit Trees: Perennial, yield times vary.
Cherry Trees
Persimmon Trees
Apricot Trees
Peach Trees
Pear Trees
Plum Trees
Apple Trees
Lime Trees
Lemon Trees
Orange Trees